International Bulk Wine and Spirits Show San Francisco 2023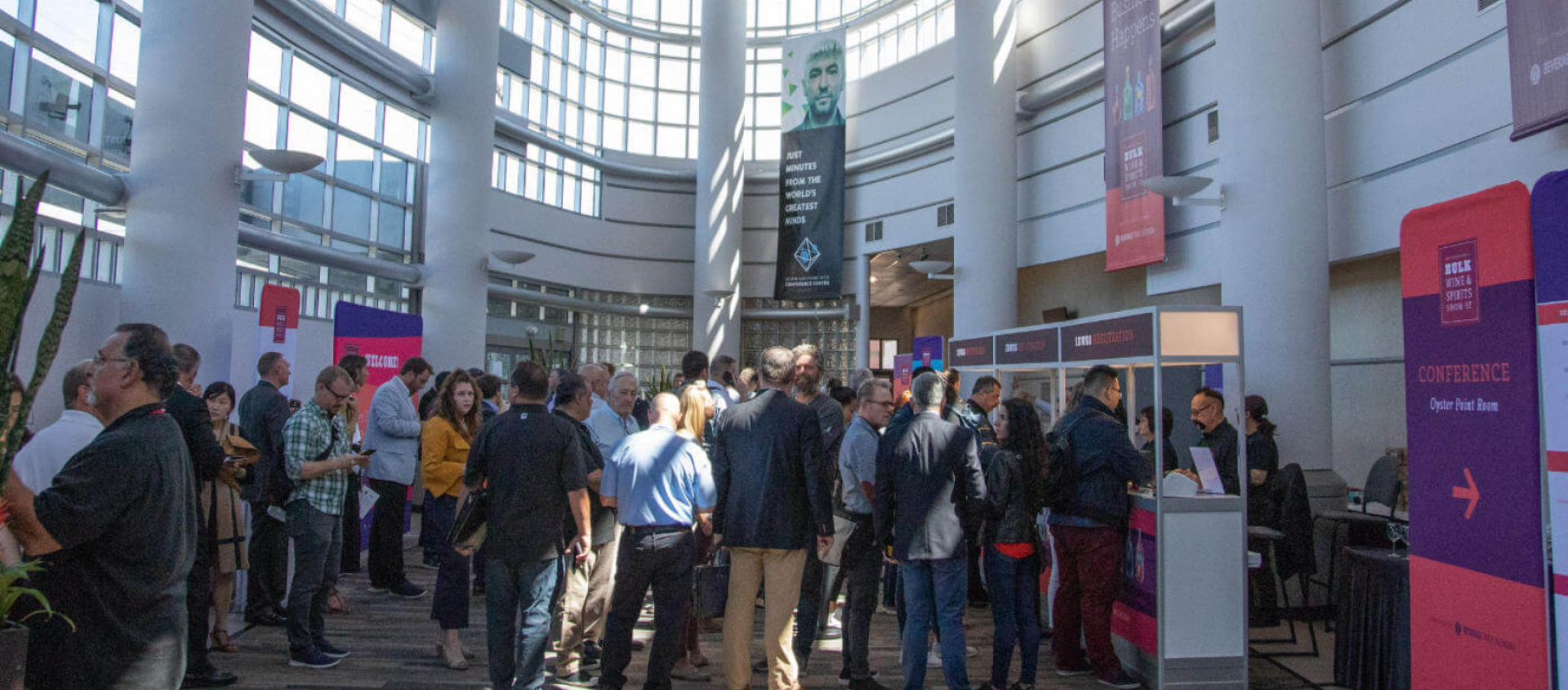 The 6th annual International Bulk Wine and Spirits Show returns with a launch offer for its conference that you will not want to miss. Speakers from top companies like O'Neill Vintners & Distillers, The Wine Group, Cutwater Spirits, Target, Vintage Wine Estates and more will take the stage and empower you to drive your bulk and private label business.
There will be 24+ speakers delivering 16 talks over two days at the South San Francisco Conference Center and will include panels and keynotes focusing on taking you deeper into the business of bulk and private label.
The 2023 theme will be broken down into four main pillars: Private Label, Industry Progress, Bulk, Supply Chain.
Location and Dates:
South San Francisco Conference Center.
July 25, 2023 - 11 am to 5 pm
July 26, 2023 - 11 am to 4 pm
*Conference begins at 9 am both days.
Both days of the IBWSS event are divided into morning and afternoon sessions. The morning sessions are from 9am to 11am and the afternoon sessions are from 1pm to 3pm. You will be able to walk around the expo floor and meet more than 120 exhibitors during your breaks. Lunch will be served from 1pm to 2pm and is included in your conference ticket. After the expo floor closes at 5pm, you may walk into the after event party next door at the Double Tree Hotel. Please note that the cocktail party ticket needs to be purchased separately unless you get your conference ticket before March 31, 2023.
What is special about the super early bird pricing?
IBWSS conference tickets are on sale right now with the super early bird pricing. Your ticket will be priced at $299 for all the sessions over 2 days. It includes expo floor entry, lunch for 2 days and as a bonus it also includes cocktail party pass worth $50. The sale will only be available till March 31, 2023. From April 1 onwards, tickets will be priced $399 and will not include cocktail party access (you can purchase the cocktail party tickets at additional $50).
Who's Speaking at IBWSS 2023?
1. Sarah (Morra) Qualters, Director of Marketing, Corporate Brands & Emerging Channels, at The Wine Group.
2. Ryan Pandl - Senior Buyer, Adult Beverages and Beverages at Target.
3. Kryss Speegle, MW - Alc bev production, sales and education, O'Neill Vintners & Distillers.
4. Jessica Kogan, Chief Growth & Experience Officer at Vintage Wine Estates.
5. Shreyas Balakrishnan, President at Cutwater Spirits.
6. Randy Herron, Head Winemaker at C. Mondavi & Family.
7. Jon Berg, Thought Leadership VP – Beverage Alcohol Vertical for NielsenIQ.
8. Cami Lehmann, Purchasing, Wine Programs and Marketing at Maggiano's Little Italy.
9. Jim Bube MS, Wine Director at Hogsalt, Chicago.
10. Maurice DiMarino, Wine and Beverage Manager at Cohn Restaurant Group.
11. Cheryl Durzy, LibDib Founder & CEO.
12. Rachel Lowe, Director of Beverage for Levy Restaurants, Chicago, IL.
13. Nathan Mansperger, VP of eCommerce, Southern Glazer's Wine & Spirits.
14. Bryan Melo, Senior Director of National Accounts & eCommerce at Freixenet Mionetto USA.
15. Horst Muelle, Global Head VinLog at Kuehne + Nagel.
16. Anita Oberholster, Extension Specialist in Enology at University of California, Davis.
17. Jason Steffens, Training Manager at Deutsch Family Wine & Spirits.
18. Devin Walden, Master Distiller of Tropical Distillers.
19. Matthew Hughes, Director of US Operations, BevZero.
More speakers are being added and you will be able to see the full list here.
What will you learn at IBWSS Conference?
The conference will take a deep dive into private label, industry progress, bulk and supply chain. Speakers who are experts in the bulk and private label business will provide you with actionable insights to help you save money with the expensive lessons that they have learned, they will provide you with knowledge of the current and future landscape of the industry so you can plan your business trajectory, they will provide you with appropriate knowledge to spot upcoming opportunities. IBWSS conferences are considered to be the best in the business and all the speakers at IBWSS have been careful selected to give you a complete seminar that is valuable for you.
Topics will include data and trends, the non-alcohol segment and how winemakers can partake in this, supply and ocean freight, sales, technical and blending panel, what bulk wine and bulk spirits buyers are looking to buy and how they will plan their buying in the recessionary period, national chain buyers like Target on sustainability in suppliers, managing a fast-growing brand, smoke lab analysis and contracts, alternative packaging, ecommerce and digital panel and more.
There will also be 4 main panels, one with on-trade chain buyers, one with off-trade national chain buyers, a technical panel of winemakers, lab experts and one with bulk wine and spirits buyers. The panels will be open for audience Q and A.
Who is this for?
Any one in the bulk wine, bulk spirits, private label, contract bottling and supply chain business. From winemakers, distillers to retail buyers, salespeople and CEOs, IBWSS is where decision-makers gather in planning and improving their private label, contract and bulk business.
Networking Party
Don't miss the the cocktail party at the Double Tree Hotel next to the expo venue at the end of day 1. Grab a drink or two and network with speakers, exhibitors, and peers. You get free access to this if you book your IBWSS conference tickets before December 16 (in the launch week).
Can't attend in person? Secure the recorded sessions with an all track pass
We'd love to see you in person and hang out with us, learn, network and also have a drink at the after party! However, if you'd prefer to attend virtually, the Powerpoints and videos of the speakers' talks will be available. You will be able to watch all the sessions in your own time and have access to Powerpoint presentations so you can learn and apply the information in your business.
*All conference tickets are fully refundable 60 days before the event. All conference tickets include lunch, coffee & pastry and expo floor entry. The launch pricing conference ticket also includes access to the cocktail party.
So go ahead and secure your seat at the best deal by grabbing your conference pass in the launch week.
Organizer & More Info